Gmail update: Reach more people you know
Today Morning I Got the mail From Gmail Team Saying,
Ever wanted to email someone you know, but haven't yet exchanged email addresses? Starting this week, when you're composing a new email, Gmail will suggest your Google+ connections as recipients, even if you haven't exchanged email addresses yet.
How it works with email addresses
Emailing Google+ connections works a bit differently to protect the privacy of email addresses. Your email address isn't visible to your Google+ connections until you send them an email, and their email addresses are not visible to you until they respond.
Receiving email from people outside your circles
If you receive an email from someone outside your circles, it will be filtered into the Social category of the inbox (if enabled) and only after you respond or add them to your circles, can they start another conversation with you.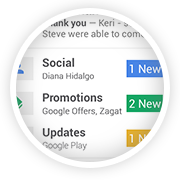 How to control who can contact you
You're in control of whether people can reach you with a new setting in Gmail on the desktop. To learn more, check out the Help Center.
We can see on the  right top our profile pic changed to round shape, Now Gmail is well-organized and
mean while
Yahoo launched (sometime Earlier) but according to my experience it didn't go well Yahoo messed up with that, Now Google
has improved
their product features more to keep up the level on top. Now Days Gmail working with Gmail app also for mobile phone so where ever we are moving with our Smartphones we are connected with our mail and other google products.